Where to Buy Maternity Clothes That are Affordable and Fashionable
posted by Randa on January 19, 2018
Where to Buy Maternity Clothes That are Affordable and Fashionable
I have a love-hate relationship with maternity clothes. They're so comfy, but you don't wear them for long so I have a hard time justifying the cost. I put together where to buy maternity clothes that are not only affordable but fashionable.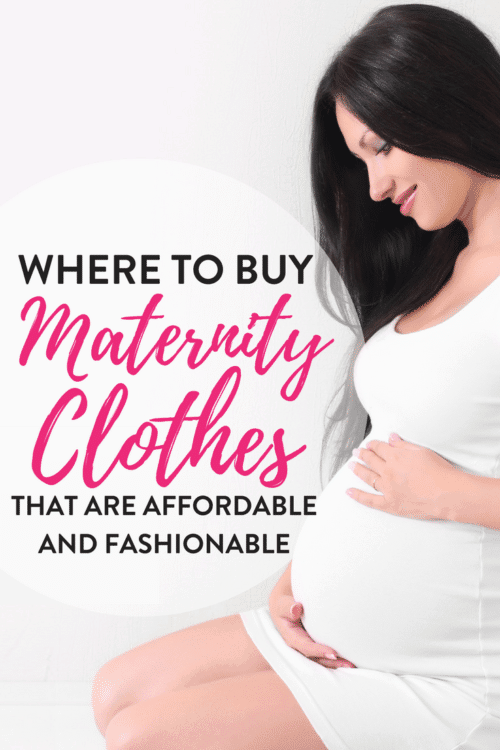 Where to Buy Maternity Clothes
This blog post contains affiliate links. What does that mean? I get a little commission if you purchase using my link, at no extra cost to you.
When I was pregnant with my son, I had more options when it came to maternity clothes. I lived close to Edmonton, Calgary, and Red Deer so my options were open. My closet was full of Thyme Maternity and I had a few items from Pink Blush that I loved as well.
A post shared by Randa @ The Bewitchin✨ Kitchen (@randaderkson) on
Now? I have no options. Our little city here in the north has limited options when it comes to where to buy maternity clothes. Old Navy no longer offers maternity in store and the boutique stores are expensive. So I'm limited to buying online, which always makes me nervous when it comes to clothes because I fit things weird. A few trial and error purchases have been made and I wanted to share where to buy maternity clothes that not only look good, but the wallet loves it too!
Pink Blush Maternity
Pink Blush is my favorite maternity store. I ordered twice during their Black Friday sale, and again recently. I really like how their shirts will work during and after pregnancy (along with the fact that they have clothes for when you're not expecting). 99% of my maternity closet is from Pink Blush. I have had no issue with fit and they seem to be true to size. I have three pairs of the one size leggings, the pill quickly and they're translucent with the stretch they have to do to accommodate my preggo thighs 😂. However, they are a great price and SUPER comfy. I live my life in these pants.
Pink Blush Maternity has beautiful clothes for after pregnancy as well.
My top picks from Pink Blush:
– I wear these are PJs and OMG, they are so freaking comfortable.
Black Maternity Leggings
Navy Blue Lace Off Shoulder Fitted Maternity Dress
Ruched Short Sleeve Maternity Top
Another bonus? Fast shipping! I'm in Northern British Columbia, Canada and shipping usually take a bit. I had my Pink Blush order in under a week each time!
Zulily
I shop at Zulily all the time for anything and everything. (I'm currently waiting for my awesome deal on aden+ anais sheets, receiving blankets, and onesies.) They always have maternity clothes from various brands.
Randa's Tip: Double check the price. They had a Pink Blush Maternity blow out, but when I went to the Pink Blush site to check – it was cheaper through the company, even with currency conversion for Canada.
Yes, sometimes you have to double check that you're getting the best deal, but they often have incredible prices. I recently ordered a Bravado nursing bra that retailed for $89 on their website, and I picked it up for $29 at Zulily.
Shop at Zulily by clicking here.
Thyme Maternity
Thyme is a Canadian maternity store, so if you're reading this from the US you can skip this. I find Thyme can be pricey, but if you shop the sales you're bound to find something. The plus about Thyme is that if you're in a bigger center, you can go instore and try their clothes on.
Old Navy
I don't mind the maternity shirts from Old Navy, and I have a pair of shorts I borrow from a friend that seem to fit well, but I don't like the jeans. They fit too small for me, and kind of make me feel a little guilty about the weight gain (ha).
Amazon
We all know how much I love Amazon!
I haven't ordered anything from Amazon yet, but I do have items in my cart to ship to Orlando when I head there in two weeks. (Amazon US, you have the best selection.)
Shop Amazon Maternity here.
PS: Are you in the first trimester? If so, check out this First Trimester Survival Guide.
So where do you buy maternity clothes? Share with me in the comments!
This content was originally published here.