This Ikea Ad Doubles Up As A Pregnancy Test
Ikea Sweden has taken advertising to the next level (and then some) by creating a printed advert which doubles up as a test.
The advert, featured in women's publication Amelia magazine, shows a lovely picture of a crib and encourages women to pee on it.
If the person doing the peeing is pregnant, the advert will reveal a special discounted price. However if you're not expecting, there'll be no bargains for you.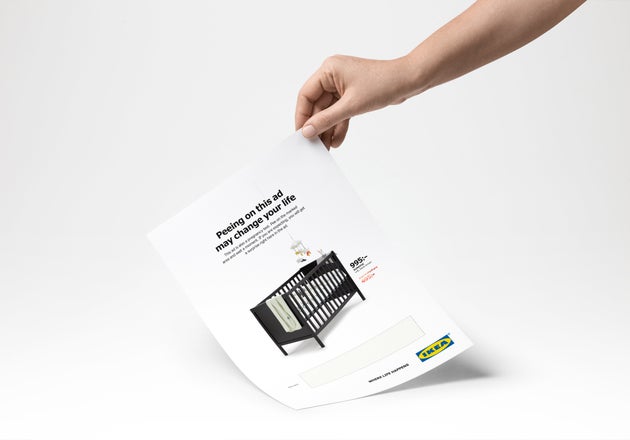 It's not witchcraft, it's science. Swedish agency Åkestam Holst worked with Mercene Labs to design and create the advert, which uses similar technology to pregnancy tests. 
How it works

In order to make the interactive function of this ad work, the agency had to make several technical advancements. A pregnancy test strip was used as a starting point, which relies on antibodies that bind to the pregnancy hormone hCG, resulting in a colour change.

Mercene Labs then had to figure out how to adapt this technology into a printed magazine advert, which would reveal the discounted price. 

"Careful selection of materials, together with a controlled capillary flow [he ability of a liquid to flow in narrow spaces without the assistance of external forces like gravity], have been crucial for the success of this project," an agency spokesperson told HuffPost UK.
Thankfully there will be no awkward moments where pregnant women hand over soggy magazine pages to repulsed Ikea servers in order to redeem their discount.
Åkestam Holst's spokesperson told HuffPost UK the discount included in the ad is the Family Member Price (Ikea's membership club that offers better prices on chosen products). So it basically acts as a reminder than you can get discount on the baby crib by joining the store's membership club.
This advert will only appear in Sweden for now, however maybe we'll soon get to pee on magazine pages too.
This content was originally published here.