Pregnant Heidi Klum is obsessed with black maternity clothes
Pregnant Heidi Klum is obsessed with black maternity clothes
by

Fashion.bg
,
13 May, 2009
The model has asked Christian Siriano – who won the fourth season of 'Project
Runway', the fashion TV show she presents – to make her a variety of pieces
in the dark hue.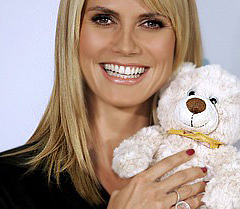 Christian explained: "She's all about
black. We made her some pieces from my Fierce Mama Maternity line and she wanted
everything in black. I think she's trying to cover it a little this time. She's
getting older and wants to be more sophisticated, not casual. She's trying
to keep it a little quiet."
Heidi – who already raises three children with husband Seal – recently
revealed her pregnancy style secrets, claiming her changing shape would not
stop her from dressing sexily.
The model said: "I love to be creative and
find cute things in between maternity and non-maternity. It's about finding
good shapes. Cool tops. Right now for example, I love the skinny pants and
blousier tops, and then when I get bigger, I like to bring the form back to
the body. Then I like to show it off."
When she can't decide what to wear, Heidi always turns to a pair of black
Balenciaga jeans which are low cut so sit underneath her tummy.
Heidi's trainer has spoken about her attitude to fitness while she is
expecting, claiming she is intent of keeping in shape.
David Kirsch told People magazine: "Why
should she do anything differently? Heidi had a beautiful body all throughout
her pregnancies. She's very disciplined and dialed in to being healthy."
This content was originally published here.