Father's Day is this weekend and new research suggests the role of working dads is changing, though not quickly enough for some.
A study by Dove Men+Care and the gender equality organization Promundo shows that more men want access to paternity leave, while 73% think there is little workplace support for fathers. NBC 5 spoke to two working dads about the search for balance.
It's Daddy time in the Harris household, when Anthony Harris' wife works evenings three nights a week and he stays home with their one and three-year-old daughters.
"Today I got home at 4:40 or something and right after that she left and I took over," Harris said.
Trump Admin. Family Separation Policy Stirs Anger, Protests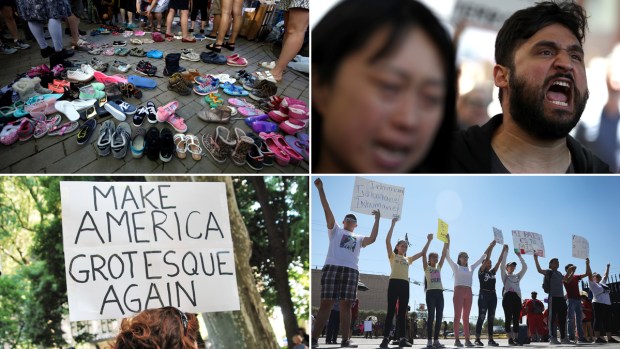 To Harris it's the most important time of the day, time he wishes he had more of, especially in the earliest weeks after birth.
"Neither one of them there was paternity leave and for the first one I really wanted to be home for at least a full week so I had to take personal vacation time to be home," Harris said.
Harris, a director of sales and marketing who works mostly from home, says if he had it his way, businesses would offer paternity leave equal to that of maternity leave. That's almost unheard of in the U.S.
Lunch Break Shaming: Your Boss May Be Judging You
"I think it still shows an attitude that's a little antiquated, an attitude that still shows that the mom needs to be at home forming that relationship with the kid, and the dad needs to work," Harris said.
But not every working dad feels comfortable taking extended time off. Right next door, Adam Powell and his wife are planning for a second child and he says even if he were offered two months, he wouldn't take more than a couple weeks.
"Not necessarily supervisor pressuring you to come back but just how much catch up there would be when you got back and how far behind," Powell explained.
DHS Secretary Defends Practice of Separating Families at Border
Homeland Security Secretary Kirstjen Nielsen defended the practice of separating families at the U.S.-Mexico border, saying that her department is merely following laws. Speaking at a White House briefing Monday, Nielsen said the issue has been growing for years, the product of loopholes that have created an open border.
Powell, a corporate accounting manager for a start-up company, counts himself lucky that he doesn't feel that pressure from supervisors. But the Promundo – Dove Men+Care study found that one in five men does fear he would lose his job if he took the full amount of paternity leave offered.
"When you have a baby it's the biggest expense of your life so you want to maintain job security," Powell said.
It's a delicate balance more fathers are having to strike, as they find that a man's place can be in the home too.
Security Guard Shot at Dallas Bar
"They're so important to me and they're more important to me than my job," said Harris.
Dove is launching a social ad campaign to raise awareness about the importance of paternity leave. The study also found that 40% of dads don't take paternity leave even if it's offered, largely because they worry it will be frowned upon.